Red Lion Weddings: Spotlight on T + D
By Sarah Adamski
Happy December, friends! This month's Red Lion Weddings spotlight is on T + D.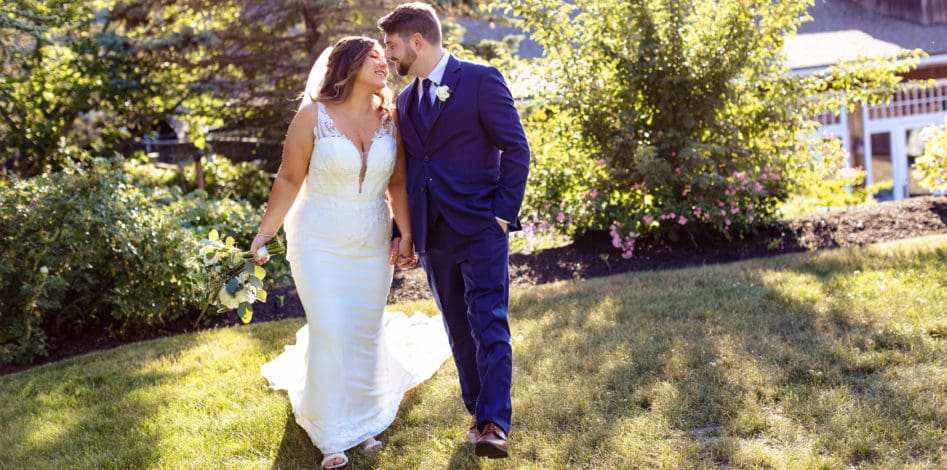 Q. You & your spouse's names, and when did you get married?
A. Taylor (Larkowski) Jean & Dan Jean, and we got married on June 25, 2022.
Q. How did you meet?
A. Like most couples nowadays…online!
Q. What was your proposal like?
A. Dan proposed to me at Truro Vineyards on Cape Cod, one of my favorite places, on a PERFECT fall day in 2020. My best friend popped out of the vines with a photographer after I said yes, then we went back to my parents house where, to my surprise, our closest friends and family were waiting to celebrate with us.
Q. How did you hear about the Red Lion Inn? 
A. We knew we wanted a barn wedding and found it after researching barns in Massachusetts.
"We immediately knew the Red Lion Inn was our #1 choice." - Taylor
Q. What made you choose the Red Lion Inn?
A. We immediately knew the Red Lion Inn was our #1 choice. We are both from Southeastern MA so it was good location wise for our guests. From the friendly and knowledgeable staff, to the beautiful grounds, big bright barn (a lot of others we looked at were so dark & dingy dirty), the rooms at the Inn on location, access to The Cave for an afterparty (which we knew we wanted), everything was in-line with what we wanted and envisioned.
Q. What was your favorite part of the planning process? 
A. The final walk-through of the property with our coordinator, Krystel. She was with us every step of the way and everything came together during that walk-through; it was so exciting. We left knowing everything was in great hands and exactly what to expect on our day.
Q. What was the most memorable part of the day?
A. I truly don't know if I can narrow it down to a #1! In general the day went SO smoothly and we had no stress so we were really able to be present throughout the whole day and spend time with all of our guests, which, looking back, was overall the best part of the day. Specifically, we wanted a moment alone in the barn before the guests came back from cocktail hour (in the Hillside House) to see how everything for the reception came together…it was such a great moment with just us.
Q. Apart from the Barn, what is your favorite space at the Red Lion Inn property, and why?
A. The Cave! It's such a unique, fun, and convenient space. The guys hung out there before the ceremony, and it was beyond perfect for the after party! No other location we looked at had something like this and it was a hit with our guests too.
Q. What was your favorite menu item served at your wedding?
A. EVERYTHING was delicious – we had such a hard time narrowing it down at the tasting. For passed hors d'oeuvres during Cocktail Hour, the buffalo chicken bites were supreme. For dinner, we'd have to say the steak!
Q. What is one piece of advice that you would like to give future RLI couples? 
A. Don't forget to take a step back and take-in the moments throughout the day, it goes by so fast! Trust that your coordinator and the rest of the team has everything handled so you can enjoy it!
Q. Any feedback that you have for our events team?
A. We cannot say enough good things about the events team. We went through a couple of coordinators leading up to our day, but even through all of that the team kept us informed. Krystel, who we ended up with, was amazing – always quick to respond to us and extremely knowledgeable. And Toufik who was there for us the day of as well was incredible; always there for us when we needed something and always thought ahead for us – we still talk about how when we showed up in The Cave for the afterparty, Toufik was there waiting for us with food! Amazing!! Our perfect day is a tribute to the amazing team!