Whether you're hosting guests from out of town or local to the area, a lobster bake is a great way to honor classic New England flavors and traditions. This festive feast combined with the charm of our Cohasset venues will offer a quintessential South Shore celebration.
For a waterfront experience, the five private spaces at Atlantica on Cohasset Harbor are ideal to enjoy the tranquility of surrounding ocean tides. These spaces can be rented separately or combined as a full venue buyout for larger parties.
If you're imagining a more traditional setting that embodies the area's rich history, The Red Lion Inn is perfect for you. This property has been settled in the heart of Cohasset Village since 1704 and continues to serve as a working inn, tavern, and event venue.
The team at Cohasset Hospitality Partners loves to create unique menus and unforgettable moments for both corporate and social occasions. See the list below to learn how we can elevate a typical backyard bbq and create an exceptional summer gathering for you and your guests.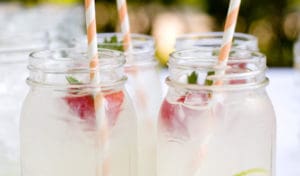 FROM BEER IN BOTTLES TO REFRESHING SPRITZERS IN MASON JARS
The first thing your guests will do when they arrive at your party is to seek a cold drink to combat a hot summer day. While galvanized tubs of beer, water, and other beverages are a great standby to ensure everyone has their elixir of choice, we love to welcome guests signature drink served in a unique way. One of our bartenders' favorites is a crisp summer spritzer, combining muddled fruit with wine and seltzer for a light, fresh beverage. Adding a colorful paper straw, fruit garnish, and serving it in a mason jar will set the tone for a fun event.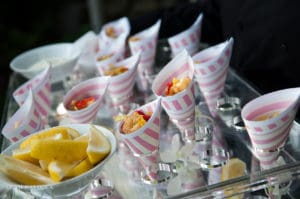 FROM CHIPS AND DIP TO HORS D'OEUVRES WITH ELEGANCE
It wouldn't be a backyard party without chips and salsa, but we like to take the prelude to the main event up a notch with beautiful presentation and passed hors d'oeuvres. Mini-bites with decorative containers are a nice way to introduce a variety of refined flavors. Instead of ladling up clam chowder in paper cups at the buffet, our servers can pass around small glass mugs of chowder during cocktail hour. For an organic display, we like to place fried oysters back in their shells with a garnish for an appealing and mouthwatering presentation.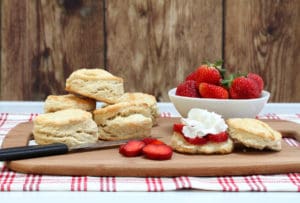 FROM ICE CREAM SUNDAES TO MAKE YOUR OWN SHORTCAKE BARS
Kids in New England have been ending summer parties by making hot fudge sundaes since what seems like the beginning of time, but an event with adults might call for something a little more sophisticated. This is a great opportunity to remind your guests of those dog days of summer when they were kids with a shortcake bar. This fresh display features biscuits, fresh berries, nectarines, plums, vanilla ice cream, fruit sorbets, and loads of whipped cream.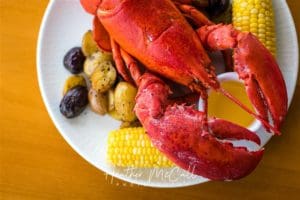 FROM BURGERS AND DOGS TO LOBSTER, LOBSTER, AND MORE LOBSTER!
There is no better way to elevate a backyard bbq than with fresh, local lobster. For a more down-home event where you don't mind things getting a bit messy, serve up those steamed lobsters with drawn butter and let everyone indulge in the fun of cracking the claws and going on a treasure hunt for the meat. If you're envisioning a more elegant affair, you can still incorporate the hard-to-eat crustacean in different ways. Consider adding mini lobster rolls to the passed appetizers, or offer a variety of lobster salads incorporating unexpected ingredients like mango, peanuts, chilis, green apples, and forest mushrooms. However you decide to serve lobster at your event, it's always a smash.
For more information on hosting a Lobster Bake at Atlantica on Cohasset Harbor or The Red Lion Inn, contact us here.
The Red Lion Inn is currently following Massachusetts' COVID-19 guidelines for guest capacity, social distancing, and face coverings.
Our Lobster Bake starts at $65 per guest.
---
Sample Lobster Bake Menu
Classic Clam Chowder oyster crackers
1 ¼ to 1 ½ Pound Lobster tails and claws cracked
Slash and Burn Chicken
Oven Roasted Red Bliss Potatoes
Confetti Coleslaw
Boston Baked Beans
Corn-on-the-Cob
Corn Bread and Dinner Rolls sweet butter
Dessert Buffet
Sweet Cream Biscuits
Fresh Fruit
Double Vanilla Ice Cream
Raspberry Sorbet
Whipped Cream
---